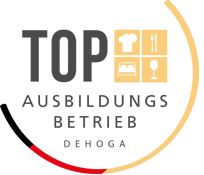 DEHOGA quality seal:
SORAT Hotel Brandenburg is a top education company
The SORAT Hotel Brandenburg is awarded by the DEHOGA German Hotel and Restaurant Association with the seal for top quality of education. As an enterprise which is certified by the DEHOGA for training apprentices it takes responsibility and train young people for the hotel business.
Guideline for excellent quality of education:
Adequate orientation phase and familiarization period to give young people an ideal start to their careers.
Each apprentice has an experienced mentor, who provides the trainees with support as contact person.
Ongoing qualification of hotel trainers as an important part of high-level, professional and motivated training.
Working atmosphere which is characterised by open-mindedness, fairness, tolerance and respect.
Regular feedback meetings with trainees, recognising achievement and open handling of criticism.
Providing of participation to job-related projects, trainings and competitions.
All trainees receive intensive preparation for final examinations.
Advice on planning their careers in time.
Appropriate relations between work and private life.
Compliance with legal regulations as well as corresponding to working hours and training allowance - orientation along collectively agreed requirements.