Breakfast, coffee shop and bar
Where the Nuremberg green market was once held, you now find spectacular and modern ambience and a breakfast restaurant there today. The breakfast offer fulfils many of wishes, that are often not met somewhere else. Regional specialities, such as small Nuremberg roast sausages, coffee made from coffee beans roasted locally in Nuremberg, at the Rösttrommel roastery, healthy muesli, fresh fruit are as natural as freshly made scrambled eggs from happy chickens and of course much more. The breakfast restaurant uncovers the view through the full-sized glass front onto the Hauptmarkt and onto the awakening city. A wonderful start to the day. And the Andante lobby bar is just the place in the afternoon. Than we spoil you with delicous coffee or tea and masterly fruity and fresh cakes and creamy pie creations directly from the traditional Beer confectionery in Nuremberg. And if you arrive later, have a break and enjoy a fine glass of wine. Everything is also available to go – you can easily take it with you into your room. This also ties back into our sustainability objectives, as we decided to pass on minibar and coffee and tea making facilities in our guest rooms. But on request, we have kettle at the reception. Our coffee shop is currently closed.
Breakfast restaurant
Monday - Friday 06:30 am - 10:30 am
Saturday - Sunday 07:00 am - 11:00 am
Holidays 07:00 am - 11:00 am
Abundant breakfast buffet
Price per hotel guest 14.00 Euro
Breakfast for kids up to age 12 free
From 13 years 12.00 Euro
Location lobby level
Seating 60
Coffee shop
Wednesday - Sunday
Coffee shop 12:00 pm - 07.00 pm
Selection of cakes
Location breakfast restaurant
Seating 60
Andante bar
Monday - Sunday
Drinks 24 hours
Snacks 12:00 pm - 07:00 pm
Location lobby level
Seating 10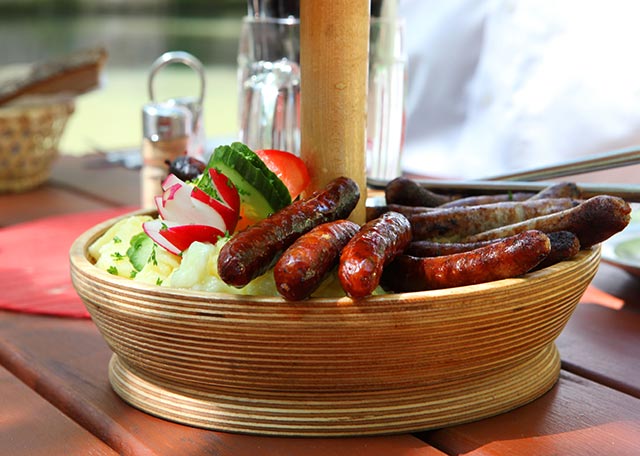 [c] www.steffenriese.de | Steffen Oliver Riese
Bratwurst Röslein
Distance: 150 m
If you are visiting Nuremberg, you should necessarily try the original Nuremberg sausages. Great places to taste that local speciality is one of the picturesque beer gardens in the old town. For example the Bratwurst Röslein – the world's largest sausage restaurant with Franconian specialties menu.
Best price
Single
from

99.75 Euro

Double
from

118.75 Euro