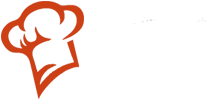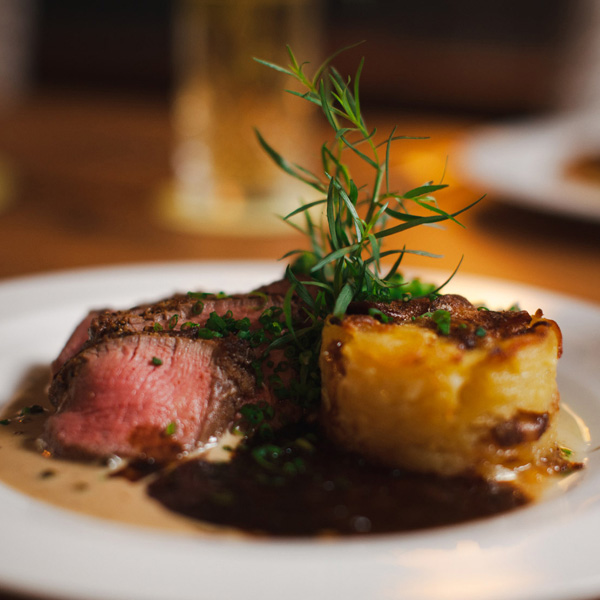 ---
Steak with onion mustard sauce
Kastaniengarten restaurant Hof
---
Prep time
Cook time
Skill levelAdvanced
---
Recipe rating
By clicking and sending a recipe rating, you agree to our privacy policy and you give us permission to process your IP address and the time of rating to deal with your rating. For more information to the storage and the processing of your data consult our privacy policy.
Crispy grill surface on the outside. Tender and juicy on the inside plus a deep and incomparable aroma. A properly prepared steak is very popular with everyone who loves pure meat enjoyment. To do this, bring the meat to room temperature before searing and use a hot cast iron pan. We recommend fillet, rumpsteak or entrecôte.
Ingredients
For the steak
1

beefsteak 250 grams

2 tablespoons

sunflower oil

1/2 tablespoon

mustard

2

rosemary sprigs

1

garlic clove

1 tablespoon

butter

Ground

black pepper

Sea salt flakes

Salt
For the sauce
2

onions

or shallots
1 tablespoon

flour

250 ml

broth

20 ml

red wine

20 ml

single cream

Dark balsamic vinegar

1 tablespoon

mustard

1/2 tablespoon

honey

Ground

black pepper

Salt
Instructions
The meat: Allow the steak to come to room temperature and remove it from refrigerator at least 30 minutes before roasting. Then preheat the oven; 80 degrees circulating air or 100 degrees top heat and bottom heat. Heat oil in a pan. Salt and pepper the meat. Spread one side with mustard. If the steak has a layer of fat, first fry it on the edge of the pan for about two minutes until it is crispy and golden brown. Place the meat on the large surface of the pan and roast it for a good two minutes on each side. Meanwhile add sprigs of rosemary. Press the garlic clove with the peel using a knife and fry it as well with the steak. Remove the meat from the pan and place it on a grid or plate and cook the steak in the preheated oven for five to ten minutes, depending on your preference.
Sauce: Peel the onions, cut in half lengthways, cut into broader strips and place in the pan you used previously. Season with salt and generously with black pepper from the mill and simmer for about ten minutes. Add some flour and honey, mix well and pour in broth and red wine. Simmer for a minute or two. Now add honey and mustard to the onions. Take the steaks out of the oven and put them in the pan with the meat juices. Pour a good dash of cream and some blasamico over everything. Boil briefly again.
Final: Serve the steak with the sauce and sprinkle with sea salt flakes. Serve with a side dish if desired. For example potato gratin, fried potatoes or simply white bread.
Tip: Are you now asking yourself why we recommend fillet, rumpsteak or entrecôte? No matter which beef steak you choose, it is always a matter of taste. The method of preparation can be used with any type of meat. Due to the slow pulling in the oven, the meat remains much more tender and juicy. By the way, the entrecôte is the favorite meat of Andreas Eckert, one of the two junior chefs.