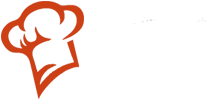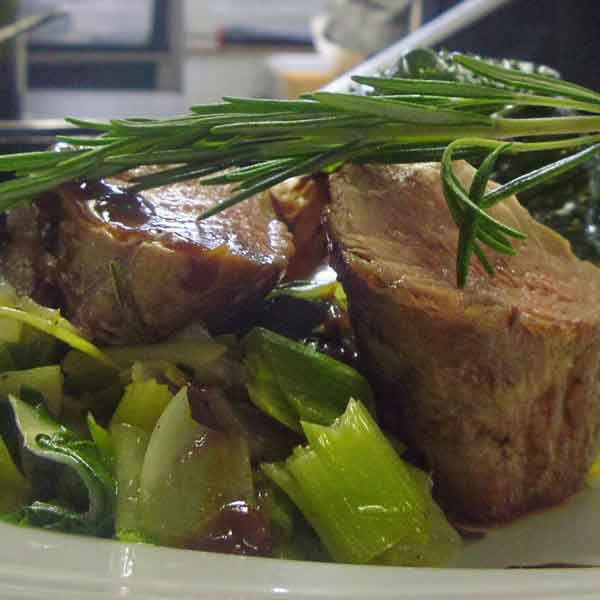 ---
Oven baked pork tenderloin
Parduin restaurant Brandenburg
---
Prep time
Cook time
Skill levelExpert
---
Recipe rating
By clicking and sending a recipe rating, you agree to our privacy policy and you give us permission to process your IP address and the time of rating to deal with your rating. For more information to the storage and the processing of your data consult our privacy policy.
Tenderloin – lean and versatile. This lean, incredibly versatile cut of pork moves easily. There are many ways to serve; we recommend leaf spinach and duchess potatoes.
Ingredients
For the tenderloin
800 grams

tenderloins

Rapeseed oil

20 grams

fresh ginger

1 stalk

lemongrass

1

lemon

1 spring

rosemary

1/4 cup fresh or canned

beef broth

1/4 cup

dry red wine

1/4 cup

balsamic vinegar
For the vegetable
50 grams

red onions

1

garlic clove

1

leek

300 grams

leaf spinach

2 tablespoon

vegetable oil

50 ml

vegetable broth

Nutmeg

Ground white pepper

Salt
For the duchess potatoes
600 grams

floury potatoes

50 grams

butter

6

egg yolks

Ground white pepper

Salt
Instructions
The tenderloin: Cut out the sinews of a piece of meat and cut into dice with 200 grams. Put the rapeseed oil in a pan large enough to hold the whole tenderloins in one layer. Sprinkle with rosemary, garlic, sliced ginger and lemongrass, turn the pork in the mixture to brown it all over. Then glaze with lemon juice and beef broth, red wine and balsamic vinegar. Remove the fillet from the pan, wrap in in aluminium foil and bake for at least 45 minutes in an oven preheated to 190 degrees. Reduce the meat juice in the pan, pass through a sieve and prepare to a sauce.
The vegetable: Heat the oil in a large frying pan or pot. Add the finely sliced onion and chopped garlic. Cook over a high heat until fragrant, 1 minute; mixing well. Add leek and spinach and saute lightly for three minutes; stir to combine. Glaze with vegetables broth, let simmer for short time until the broth is reduced, do not overcook. Season with salt, fresh white ground pepper and nutmeg.
The duchess potatoes: Peel and cook the potatoes in boiling water until fork-tender, about 25 minutes. Drain and strain them through a press or mash. Cool the potatoes for about 20 minutes at room temperature. Add room temperatured butter and the five egg yolks, season with salt and nutmeg; mixing well. You might use 3 tablespoons cream for adding in more to achieve desired consistency and for refining. Season with more salt, pepper nutmeg if needed to taste. Spoon the potato mixture into a pastry bag fitted with a large star tip. Pipe the mixture into 12 mounds onto a large greased baking sheet. Drizzle one egg yolk over the potatoes. Set oven to 225 degrees. Bake for about 10 minutes or until golden brown.