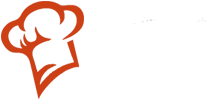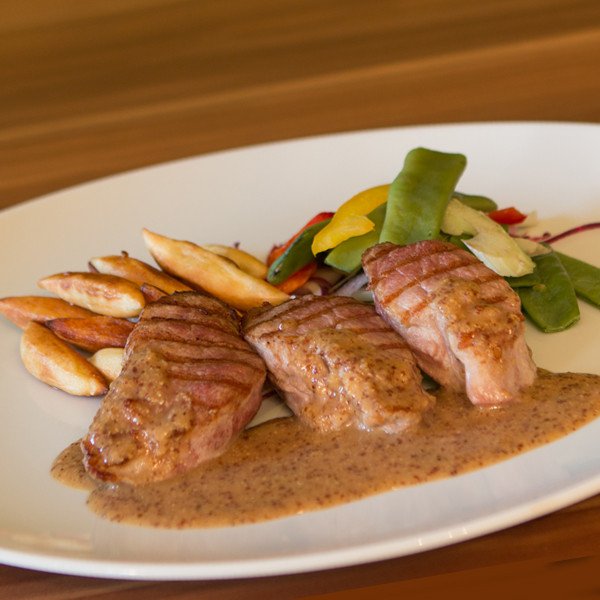 ---
Pork medallions with Bavarian mustard sauce
Brandner restaurant Regensburg
---
Prep time
Cook time
Skill levelAdvanced
---
Recipe rating
By clicking and sending a recipe rating, you agree to our privacy policy and you give us permission to process your IP address and the time of rating to deal with your rating. For more information to the storage and the processing of your data consult our privacy policy.
Pork medallions with Bavarian mustard sauce, served with mangetout-carrot-bell-paprika vegetable and Schupfnudeln finger-shaped potato dumplings. To make the dish turn out well, take fresh meat. Before roasting, it should be covered up warm to allow the juices to distribute through the meat evenly.
Ingredients
For the medallions
600 grams

pork fillet

2 tablespoons

oil

or

clarified butter

Freshly ground

black pepper

Salt
For the sauce
150 grams

crème Fraîche

, heavy or light creme
1/4 cup

white wine

1/4 cup

broth

1 tablespoon

Händlmaier sweet mustard

Lemon juice

Chilli powder

Ground

black pepper

Salt
For the finger-shaped potato dumplings
400 grams yesterday's

jacket potatoes

1 1/8 cups

wholemeal wheat flour

3 tablespoons

butter

2

egg yolks

Nutmeg

Ground

black pepper

Salt
For the vegetable
2

yellow bell peppers

2

red bell peppers

250 grams

mangetout

3 tablespoons

cold pressed olive oil

2

garlic cloves

2 tablespoons

grated lemon

Ground

black pepper

Salt
Instructions
The finger-shaped potato dumplings: peel the potatoes and press them through a potato ricer into a large bowl. Stir in egg yolks and flour, season with salt and freshly grated nutmeg to taste. Knead well to form a smooth dough. Let the dough rest for 30 minutes in the fridge – then take a lump of dough and roll into a tube shape with the pointed ends, 3 cm and finger thickness little rolls. Now have a big pot of boiling saltwater ready. Then place a few dumplings in the boiling water. They won't take long, maybe about 3 - 5 minutes. They are ready when the dumplings float to the surface, remove them with a skimmer, draining well. Keep warm and just before serving melt the butter in a pan and toss the dumplings in the butter.
The vegetable: Mangetout need very little preparation, simply wash and top and tail if the ends are tough. Then wash bell peppers, halve, remove the core and cut into 1 cm thick slices. Peel garlic and chop finely. Heat the olive oil in a pan and brown the bell peppers gently, take care to not brown the vegetables. Add mangetout and garlic subsequently and fry it for a further five minutes. Do not overcook or the vegetables will lose their flavour and crunchy texture. Season with salt and pepper, add and stir grated lemon, remove from head and keep warm.
The meat: Slice the tenderloin into 6 cm thick medallions, season both sides with salt and pepper. Cover the bottom of a medium skillet with a light film of fat and heat over medium-high heat until hot. Add the pork slices, turn and sear until lightly browned. Transfer the slices to pre-warmed plates and cover with a warm bowl. Keep warm in the oven. Set your oven to the lowest temperature for keeping warm.
The sauce: Bring the meal juice in the pan to a head, glaze with white wine and simmer until reduced, until four minutes. Add the broth, bring to a boil, and cook until reduced. Reduce the heat to medium and add the cream and mustard, stir and bring to a boil briefly. Season with a dash of lemon juice and a pinch of chilli powder. If necessary add salt and meal juice and refine with gravy from the warming plates. To serve, divide the dumplings and vegetables among the four pre-heated plates. Arrange two or three medallions on each plate and top with sauce.