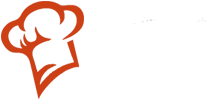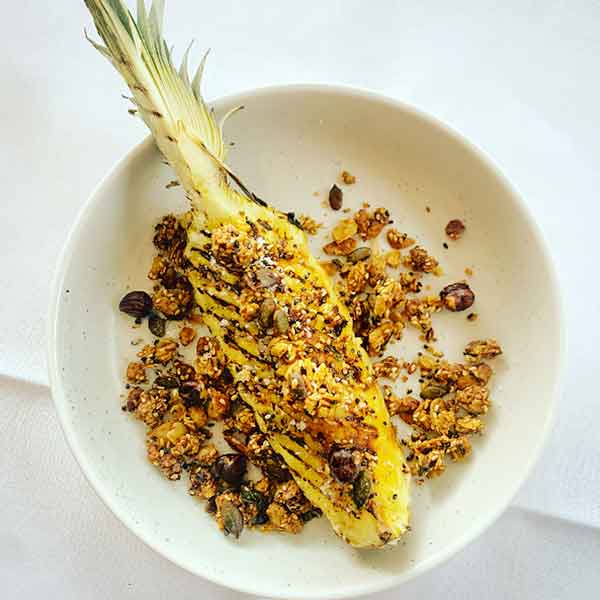 ---
Grilled pineapple with maple mustard granola
Brandner restaurant Regensburg
---
Prep time
Cook time
Skill levelEasy
---
Recipe rating
By clicking and sending a recipe rating, you agree to our privacy policy and you give us permission to process your IP address and the time of rating to deal with your rating. For more information to the storage and the processing of your data consult our privacy policy.
Whether in a cake, on a pizza or as a dessert, pineapple is an all-rounder. Fresh from the grill with granola crunchy muesli as topping a real treat. Ideal on the terrace on a balmy summer evening or cozy by the fireplace in the wintertime. If you don't want to go vegan, you can also serve it with Serrano, mozzarella or shrimp.
Ingredients
1

fresh pineapple with green leaves

50 grams

sunflower seeds

50 grams

pumpkin seeds

50 grams

light sesame seeds

50 grams

black sesame seeds

50 grams

oat flakes

50 grams

hazelnuts

50 grams

flaked almonds

5 tablespoons

olive oil

2 tablespoons

mustard

3 tablespoons

maple syrup

Salt and black pepper for granola depending on taste

Fleur de sel for pineapple depending on taste

Coarse black pepper for pineapple depending on taste
Instructions
Heat the oven to 130 degrees.
Line a large baking sheet with baking parchment to prevent the granola from sticking.
Mix all the dry the ingredients nuts, almonds, seeds and oatmeal in a bowl.
Whisk together the olive oil with mustard, salt and pepper to a paste.
Then pour the paste into the bowl with the dry ingredients.
Mix together well, making sure that all the dry ingredients are well coated and that there are no dry bits.
Tip the mixture onto the lined baking sheet and spread out in an even layer.
Bake in a preheated oven at 130 degrees for about 30 minutes until golden.
You will need to give the mixture a few turns every 8 - 10 minutes to make sure it dries out evenly and does not clump together too much.
Keep an eye on it as nuts can burn easily.
Remove from the oven and leave to cool completely on the tray.
Break up any large clumps of granola with a wooden spoon.
Now cut the pineapple into quarters and remove the center core.
Grill the pineapple vigorously on the grill or in a grill pan.
Remove from the grill and season with coarse black pepper and fleur de sel.
Sprinkle the granola on top of the grilled pineapple and serve.
Tip: If you do not like it vegan, you can also serve air dried ham, buffalo mozzarella or shrimp with it.
Pro tip: When buying olive oil, pay attention to the quality. Rather spend more.
Storage: You can keep the granola for up to one month in an airtight container.