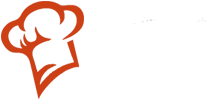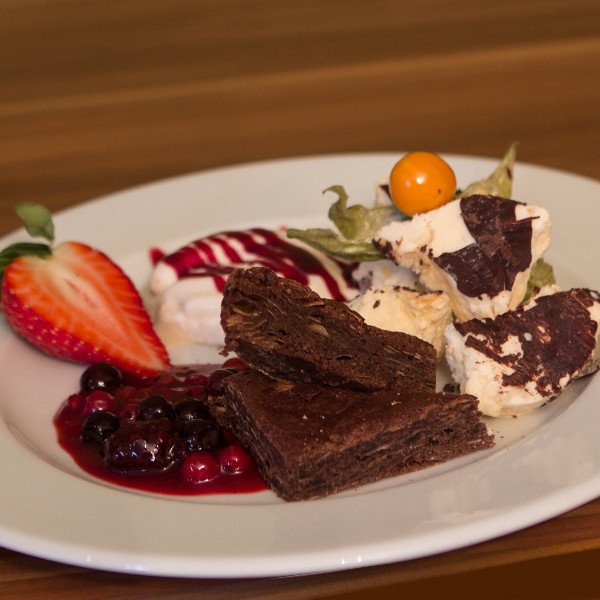 ---
Frozen Kaiserschmarrn
Brandner restaurant Regensburg
---
Prep time
Cook time
Skill levelExpert
---
Recipe rating
By clicking and sending a recipe rating, you agree to our privacy policy and you give us permission to process your IP address and the time of rating to deal with your rating. For more information to the storage and the processing of your data consult our privacy policy.
Kaiserschmarrn is a popular dessert in Austria of fluffy shredded pancake. But we have modified it for you. Serve it frozen, as a parfait with Bavarian cream espuma on warm chocolate cake and top with marinated wild berries. End your meal on a sweet note.
Ingredients
For the Kaiserschmarrn
3

free-range eggs

1/3 cup

white sugar

1

vanilla bean

Grated zest of one

untreated lemon

5 teaspoons

water

7/8 cup

heavy cream

2 tablespoons

rum raisins

100 grams whole

milk chocolate

3 tablespoons

vegetable oil
For the Bavarian cream espuma
2 cups

milk

1

vanilla pod

4.5 grams

granulated gelatine

2

egg yolks

2 tablespoons

white sugar

30 grams

cornstarch

Table

salt
For the chocolate cake
100 grams

butter

200 grams

chocolate 70% cocoa

4

free-range eggs

2 cups

white sugar

2 tablespoons

flour
For the marinated wild berries
100 grams

currants

100 grams

blueberries

50 grams

raspberries

50 grams

blackberries

100 ml

water

2 tablespoons

chocolate liqueur
Instructions
Kaiserschmarrn: Cut the vanilla pod lengthwise, scrape out the core. Whisk tow tablespoons sugar, egg yolks, egg whites, lemon zest and vanilla in a large bowl until frothy. In a pot, heat the water and add the remaining sugar, bring to a boil and let simmer until the liquid is a clear syrup. Stir the syrup into the yolk mixture until fully combined. Whisk until cold. Then add heavy cream and rum raisins into the mixture, stir carefully. Spread the mixture about one centimeter thick on a baking tray lined with baking paper; apply it evenly. Put in the deep freezer and allow to freeze completely. Prepare the chocolate glaze. Melt chocolate in a medium bowl and set over a pot of simmering water over medium-low heat, stirring occasionally with a wooden spoon and add the vegetable oil. Remove from heat. Shortly before cooled down completely, take the parfait from freezer and drizzle the glaze over the parfait. Freeze again. Cut into bite-sized pieces before serving.
Bavarian cream espuma: Cut the vanilla pod lengthwise. Place a pot with milk over low-medium heat, and add the cutted vanilla pod, bring to a boil. Let it stand without heat for about twenty minutes. Remove the vanilla pod from the milk; scrape vanilla pod and add the seeds to the milk; stir well. Place egg yolks, sugar, salt, cornstarch and two or three tablespoons vanilla milk in a medium bowl and stir well. Reheat the pot with the vanilla milk and pour a bit of the vanilla milk into the bowl with the egg-sugar-cornstarch mixture while stirring. Return to the pot and add the mixture into the vanilla milk, bring to a boil briefly. Stir gently and carefully. Remove from heat; add the gelatin and whisk until completely dissolved. Allow to cool completely until the mixture starts to gelatinise and beat it occasionally. Pour liquid into siphon, charge siphon with two cartridges, shake siphon vigorously. Place the siphon into the fridge to cool for roughly two hours; shake occasionally. Before serving shake and dispense foam to test texture; charge again as needed.
Marinated wild berries: If using frozen berries, allow to defrost. Fresh berries to be picked, washed, and allow to drain. Place 80 grams of the berries in a pot and puree the berries by using a hand blender. Add water and bring to a boil; put it aside for about thirty minutes to soak. Strain through a fine sieve and boil it down until it is almost syrupy. Cool down. Once the berry mixture has cooled, add the chocolate liqueur, stir well. Then add the remaining berries and gently fold together; put it aside for about thirty minutes to soak.
Chocolate cake: Melt butter and chocolate together in a medium pot or in a medium bowl and set over a pot of simmering water over medium-low heat, stirring occasionally with a wooden spoon. Remove from heat. Separate the eggs and whip the egg whites until stiff. Beat the egg yolks and the sugar together until they are of a mousse-like consistency. Sift the flour and add together with the colded chocolate-butter under the egg-yolk-sugar mixture; whisk through to combine. Now, add the egg white, fold in gently with large rubber spatula. Spread this mixture onto a buttered and floured tray; bake them for twenty to twenty five minutes at 160 degrees on the middle bare. Cut into smaller pieces; wipe knife between cuts. Serve lukewarm or colded with frozen Kaiserschmarrn, Bavarian creme espuma and marinated berries. Garnish with remaining berries.
Timing
Frozen Kaiserschmarrn
Prep time 45 minutes
Cooling time 6 hours
Espuma
Prep time 30 minutes
Cooling time 2 hours
Chocolate cake
Prep time 45 minutes
Baking time 25 minutes
Marinated wild berries
Prep time 30 minutes
Soaking and marinating time 1 hour
Don't throw away the scraped pod, make your own vanilla sugar. Dry the pod. Grind the dried pods and sugar in a spice blender or grinder. Store in an airtight container. Homemade vanilla sugar – that is just heavenly.